PAWS Founder and Judge; Roy Chaffin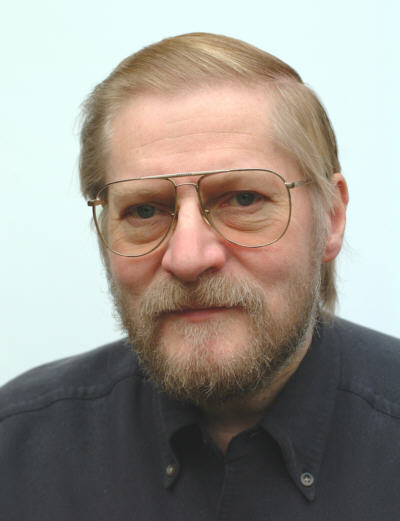 In 1986 Roy Chaffin gave up a successful commercial career to devote all his time to becoming a full time wildlife artist.
His new profession nearly came to an untimely end before it began. His back was broken in two places in a car crash in Switzerland. His recovery was due to good fortune, the skill of the Swiss doctors and his own dogged determination.
Back at his easel Roy soon built an international reputation for detailed and often dramatic paintings of wildlife, mostly mammals. He has a particular love of the great cats and has become well known to the public at large as "that man who paints tigers".
Roy's early work was entirely photographic in its accuracy, but gradually developed in style to combine startling realism with a personal interpretation of the world around us.
One man shows of his work have been staged world-wide, from the Fine Art Centre in San Francisco, USA, to the local Watford Museum. Joint exhibitions include shows at the Mall Galleries, Westminster Gallery, Lamont Gallery and Llewellyn Alexander Gallery in London, at St. Albans Abbey, Gloucester Cathedral and by invitation at Hatfield House. His work was also included in the "Whaletail" exhibition in South Africa.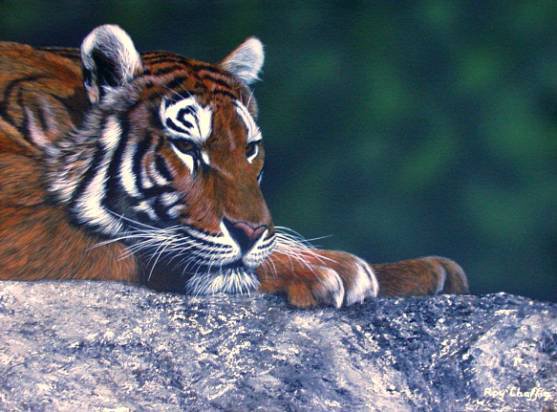 He works primarily in acrylic on stretched canvas, but undertakes commissions and teaches in all media including oils, watercolour, oil pastels, soft pastels, and pencil.
A legacy of his earlier business career is a strong interest in computers and all things electronic. He is entirely comfortable with computer graphics and developing the public's interest in computer fine art. He is an experienced and competent broadcaster.
Whilst Roy has become well known to the general public on the merit of his work, he has also built a reputation with artists for his popular painting weekends, demonstrations and seminars. Artists working in all media and interested in all manner of subjects find his particular brand of teaching helpful, and have discovered that he is able to pinpoint their problems and (better still) offer solutions!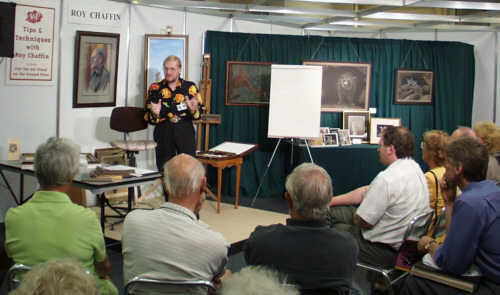 He claims that it is a "lazy streak" that leads him to find the "easy solution" to many artists' problems, but those who know him would dispute this. He is always prepared to work hard and long at achieving the targets he sets himself. He also devotes a lot of time and energy to the many national voluntary and charitable organisations connected with the arts, or with animals and conservation, which he supports. Locally he is currently Chairman of the Watford Area Arts Forum and President of both the Hertfordshire Visual Arts Forum and the Watford and Bushey Art Society.
He devised PAWS to heighten awareness of conservation issues amongst Artists and to encourage them to tackle wildlife subjects, The competition also provides encouragement to amateur wildlife artists of all ages in Europe and the Americas as well as in Britain
In 1999 he was nominated as a 'Creative Briton' in the awards event sponsored by the Prudential.
Winsor & Newton have been major sponsors of PAWS for the whole of its very successful decade and in 2000 they wanted to make a very special occasion of the 10th Anniversary evening. They had decided to present Roy with a Limited Millennium Edition of their Silver Plated Artist's Watercolour Set.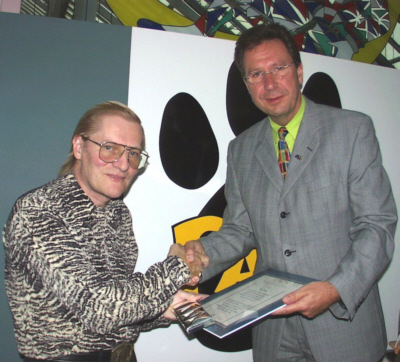 Paul Giddens, UK Marketing Director of Winsor and Newton, made the presentation.

The award from Winsor and Newton was "In recognition of Roy's total commitment, abundant enthusiasm, professional competence and above all, the time and energy given to PAWS over the last ten years since its creation".

We recall with delight that for the first time in our history Roy was speechless! In his letter of thanks to Paul he said "Thank goodness you made your announcement at the end of the proceedings as otherwise the prize-winners might have had to go home empty-handed!"

He went on

"At the time I think I just looked (and felt) dazed. I cannot tell you how much pleasure it gives me to own one of the Limited Edition Silver Watercolour Boxes. The presentation made the 10th PAWS Competition very special indeed for me and the box and certificate will take pride of place in my studio."

So in the year 2000 the prize-giving evening belonged to Roy as well as to our many talented winners. The presentation was a fitting tribute to the man who has made the annual PAWS event one of the highlights in the calendar of wildlife artists, and who will now guide its future.

Roy's hobbies include clay-pigeon shooting and he also spends leisure time writing flight simulator software for Microsoft's Flight simulator. - recreating real aircraft so accurately on a computer, that "real pilots" use it for training and practise. His recent work in this area, which has won a number of International Awards has been published world-wide on the internet, and on CD, the total proceeds of which he has given to charity. To date there are in excess of three quarters of a million users of this software worldwide, making it the most popular package of it's type.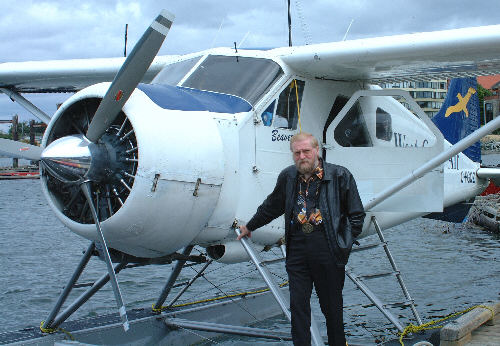 Whenever he is not playing with aeroplanes, real or virtual, Roy seeks the company of the animals he loves - in his own back yard or travelling round the world to observe them. He tries to convince everyone that this is 'work', rather than a 'hobby' but it is the part of the job of being a wildlife artist that he enjoys most.
A visit with fellow professional wildlife artist Robert Bateman in British Columbia, whose work he has admired for many years, heightened his enthusiasms still further, for painting, for teaching and for conservation.
Indeed, Canada is a favourite destination for Roy. In 2003 he took a week driving across the Rockies in search of subject material for paintings. He saw grizzly and black bear, moose, elk, mountain goats and much else besides. Over the next couple of years it seems likely that his canvasses will reflect not only this diversity of wildlife but also his love of that particular part of the world.