""PAWS 2004"
The Prizes
The overall winner of PAWS receives the wonderful PAWS Challenge Trophy to hold for a year. The winner is selected as the "Best in Show". In the past this has been from the divisional winners, but this year the winner has to be chosen from all the hundred pictures hung. In addition to the trophy, the Champion wins a Winsor and Newton Swale Desk Easel and a voucher for £500 of Winsor and Newton materials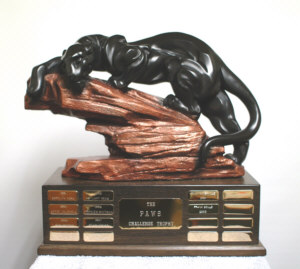 A second prize of a Winsor and Newton Easel and £300 to spend on materials, and a third prize of an Easel and £150 for materials are also being awarded.
We are grateful to Winsor and Newton not only for the provision of these wonderful prizes this year, but also for their continual support of PAWS from it's very beginning in 1991.
Each winner receives an special engraved medal and a complimentary copy of the "PAWS Artists Year Book".
The "Joyce Chaffin Memorial Scroll" is awarded in memory of Roy's mother, to the picture he believes would be the one she would have most liked out of the finalists. The winner holds the "scroll" for a year.
A Special Prize for technical merit is also being awarded this year.
The 100 pictures from 81 artists - all of whom have been past overall or divisional PAWS winners, or come very close to winning - are being shown at the Harlequin Gallery in Watford in Hertfordshire for 9 days from August 7th. The show will then be moved to the Black Sheep Gallery in Chester for four weeks from 22nd August. Thanks both to the Harlequin and to the Black Sheep Gallery for their support.
Every Exhibitor in the Finale Exhibitions will receive a "Certificate of Merit", a page on the PAWS Website for a year, and an entry in the "PAWS Artists Year Book"