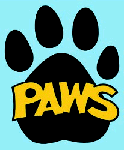 ""PAWS 2004 Finalé Exhibition"
The PAWS 2004 Finalé Exhibition was by invitation only, and each of the winners from previous years were invited to participate in the final celebration of PAWS.
The basic rules were the same as before, with some relaxation and variation to accommodate the fact it was not the normal competition.
For the 2004 Exhibition a 1st, 2nd, and 3rd prize ONLY was awarded, along with the Joyce Chaffin Memorial Scroll. There were no media awards.
The Competition Rules
(1991 - 2003)
1. The competition is open to all artists, and will be judged in the following divisions; Oil/Alkyd, Watercolour, Acrylic, Pastel, Gouache, Other/Mixed Media, Monochrome irrespective of medium, and Computer Art. In addition all entries will automatically be entered for the Joyce Chaffin Memorial Award, and artists of the appropriate age for the Youth Award.
2. The subject of each piece must include wildlife. Domestic or farm animals will not be considered as wildlife.
3. Commercial prints are NOT eligible. The competition does NOT extend to sculpture or other three dimensional work.
4. The image size must not exceed 20" x 16".
5. For all divisions except Computer Art, the original work must be submitted unframed, unmounted and unglazed. Canvases must be submitted on stretchers. Canvas boards are also acceptable. Pastels should be protected by a sheet of grease-proof paper. A label must be affixed to the back of each painting showing the artist's NAME and the TITLE of the work as shown on the entry form.
6. We define Computer Art as 'Images created by an artist, or manipulated from the artist's original input, on a computer'. Entries for this division must be submitted as a .jpg file on a standard PC format 1.44mb floppy disc or CD ROM. A label must be stuck to the floppy disc or the details written on the CD itself (not the box) giving the artist's NAME and the TITLES of the images as shown on the entry form. Please check discs/CDs for viruses.
7. Artists may submit three entries in total including their computer art images. PAWS Club members, however, may submit up to three images in the Computer Art division as well as up to three entries of original paintings in the other divisions.
8. Entries may be delivered by hand on hand-in day, Alternatively entries may be sent by post or courier.
9. Entries should be addressed/delivered to; "P.A.W.S.", 10 Nascot Wood Road, Watford, Herts WD17 4RS and must be accompanied by a properly completed entry form. (Photocopies of the entry form, or copies downloaded from our website, are acceptable).
10.All PAWS Club Members enter the competition free of charge. The entry fees for non-members are £10 for one original painting, £14 for two or £18 for three, and must be paid at the time of entry. You may deduct £3 from the total fees for each entry which is in the Computer Art division and please note that this reduction is made because your disc or CD will not automatically be returned to you (but see rule 12)
11. Winners will be notified by post. The Judge's decision is final and no correspondence will be entered into.
12. Original paintings, will be returned by ordinary post, unless clearly marked on the entry form that the artists wish to collect them. (or see note about Special Delivery parcels on the entry form). The date for personal collection will be advised later. Discs and CDs may also be collected at this time, but will not otherwise be returned unless you supply a pre-addressed and stamped disc/CD postal box with your entry.
13. Whilst reasonable care will be taken, the organisers take no responsibility for any loss of or damage to any pictures, discs or CDs either whilst in their possession or when in transit. Proof of posting will not be accepted as proof of delivery.
Return of work - Please be patient
All artist's work will be returned as soon as possible and records are kept of when and where work was despatched. If you have not received your work back - or notification that we want to exhibit it at the Business Design Centre - by the end of June, please then let us know.
We take great care of your work. To ensure careful handling we cannot promise earlier return.