PRESS RELEASE
R4D TEAM / RCS PANELS NEWS
MAAM DONATIONS FROM FLIGHT SIMMERS TOP $25,000!
The Mid Atlantic Air Museum and the R4D Team of RCS Panels are delighted to announce that sales of the popular Douglas R4D-6 (DC-3) Donation-ware CD-ROM and associated donations to the museum's Engine Replacement Fund by flight simulation enthusiasts have exceeded the $25,000 mark. The CD version of the award-winning and record breaking Freeware package was produced by the team of Bill Rambow, Roy Chaffin, and Jan Visser to help purchase a new engine for MAAM's restored U.S. Navy R4D-6, Bureau # 50819 , the real life model for the sim. The team have donated all their work and Bill does the CD burning and printing at home, which allows the museum to pocket over $23 of every $25 dollar sale. Nearly 1000 discs have been sold and mailed to more than 30 different nations and as many U.S. states since June of last year, making it the number one selling item at MAAM's Museum Store .
click thumbnails to enlarge
The Freeware versions of the R4D Aircraft/Panel/Sound packages for FS2000, FS98, CFS, and CFS2 have been downloaded by a couple hundred thousand users, making it one of the most popular third-party add-ons of all time. So why pay good money for the CD when you can get the plane, panel and sounds FREE? Well, besides the satisfaction of helping to get this great historic aircraft back in the skies, CD owners receive much more for their money than the basic aircraft package. While a FS2000 freeware flier will need to download nearly 40 MB of zipped files to get an up-to-date R4D package, then install it all by hand, the R4D package on the CD is complete and self-installing, and of course there is nothing to download. The same goes for the FS98, CFS, and CFS2 packs, of course, all of which are on the same disc. The CD is also chock full (400 MBs) of extras, such as three genuine WW-II era pilot's manuals (two USAAF and one RAF), a film clip of the MAAM R4D in flight, many hundreds of photos of the R4D and other classic aircraft, and much more.
DONATION-WARE CD FOURTH EDITION NOW AVAILABLE
Since it's introduction at MAAM's World War II Weekend Air Show in June of 2000, the CD has undergone several changes to keep it current with the latest versions, revisions, and upgrades to the dynamic R4D package. The second edition introduced an aircraft package for Combat Flight Simulator, Jan Visser's stunning Visual Model Upgrade for FS2000, and an expanded operator's manual. The third added the CFS2 pack and a Frequently Asked Questions document. The most recent, fourth edition includes the newly released Patch 3.

Despite the changes to the CD, owners of previous editions need not despair, or part with any more money to stay up to date. Freeware, self-installing improvements such as the Visual Model Upgrade (r4dv4pa3) and the new Patch 3 (r4dv4pa3) will keep their R4Ds current with all the visual and aural improvements.
FREEWARE R4D PATCH 3 RELEASED
Roy Chaffin and Bill Rambow, the panel duo, have put together Patch 3. Roy, with some graphics work from Bill, has solved the annoying misalignment of the panel's night floodlights experienced with some video cards. No more "ugly duckling" look at dusk and dawn when the panel floodlights are turned on...

Roy has also been busy in the sound department. Patch 3 introduces a new stereo sound package that will rattle the windows, if you so desire, with the wonderful bass of the Pratt & Whitney rumble. There is also a more audible tire screech that many pilots have asked for. Bill has included the FAQ and three new panel diagrams featured in the newest CD manual.
After the self-installer has done it's thing, other Gooney Birds in your hangar can also benefit from the improvements by aliasing the R4D's panel and sound configurations or copying the patched panel and sound folders to them. Patch 3 (r4dv4pa3.zip) supercedes and includes the previous R4D patches and is available at RCS Panels, this, and other major FS websites. Patch 3 will work with all Freeware and Donation-ware version 4 R4D-6 packages for FS2000.
Important! Be sure to read the Patch 3"read_1st.txt" for important information before running the self-installing patch.
***************************************************************
You say you don't want a CD, but still wish to show their appreciation and help a good cause? Then, you can make a donation of any size to the Engine Replacement Fund at MAAM. There is some way to go yet before a new P&W 1830-94 Twin Wasp can be bolted on to the mounts and #50819 can once again join the airshow circuit. Donations of any denomination may be mailed to: Mid Atlantic Air Museum, 11 Museum Drive, Reading PA 19605, or they can be made on-line by credit card in $5 increments. (Ignore the bit about the $3.95 shipping fee, it will not be charged to your account unless you order something else from the store.) MAAM is a non-profit organization, so all donations are U.S. tax deductable. Just imagine what MAAM could do if every R4D flight simmer donated just a dollar!
***************************************************************

Winner of the FLIGHTSIM.COM DEVELOPER'S AWARD for June, 2000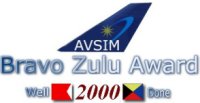 Double Winner, AVSIM Online 2000 Bravo Zulu Award for Best Panel and Best Aircraft
***************************************************************
NEW PROJECTS IN THE WORKS
The R4D team is not resting on its laurels, either. Jan Visser, the master aircraft designer of the team, has already released new Freeware civil versions of the DC-3, one in Finnish Airlines colors (dc3ohlch.zip) and one in the DC-3 Airways (virtual) livery (dc3_dca.zip). Both planes use the R4D panel and sound packs and both are setting new download records, besides garnering a lot of critical acclaim for their incredible exterior and interior detail and incomparable, gleaming, bright metal finishes.
This pristine pair of passenger planes will be followed very soon by an equally elegant freight hauler, another VA bird, for Tradewind Domestic Mailservice, a division of TradeWind Caribbean Airways.
Jan will be releasing many other new liveries in the future, and could easily make a career out of satisfying the many requests! His first U.S. civil aircraft (other than virtual, that is;-) will be the Eastern Airlines DC-3, sistership of the one hanging in the National Air and Space Museum.

The next full aircraft/panel/sound package by the team, this time around led by Jan, will be yet another restored DC-3, PH-DDZ, the flagship of the Dutch Dakota Association. Both panel and aircraft are in advanced stages of completion with release scheduled for April. As with the R4D, both aircraft and panel will be faithful reproductions of the original derived from close-up digital photos. DDZ has a much more updated panel than the U.S. Navy warbird. Bill (graphics) and Roy (programming) have produced a completely new set of gauges featuring a Bendiz/King RMI and radio stack among a suite of other modern instruments.

For this year's MAAM WW-II Weekend Show the team hopes to debut a brand new donation-ware CD featuring the museum's Oshkosh Best Bomber Award Winner, the B-25J "Briefing Time". She has been called "the best restored Mitchell in the world" and the team have some new tricks up their sleeves to break some more FS ground with the sim of this famous bomber. Like it's Douglas counterpart, the B-25 CD will feature photos, film, and genuine manuals galore.

Happily, "Briefing Time" doesn't need a new engine, or much of anything else, for that matter. WW-II veteran pilots climbing her crew ladder will feel right at home. But MAAM has another cause that needs and deserves the support of the FS community. The P-61 Black Widow Restoration Project......

The museum owns one of only four of these legendary night fighters remaining in the world. Upon completion of the restoration it will be the only flying example of the largest fighter to fly in WW-II and will attend airshows nationwide. The story of how this rare aircraft was resurrected from it's wartime crash site atop a mountain in the South Pacific would make a hell of a book or movie. Some day, when the project is nearing completion, the R4D Team plans to do a full aircraft/panel/sound package of this unique aircraft, but since that will have to wait, the proceeds of the upcoming B-25 CD will all go to the Widow's Fund. Read all about it at MAAM's website and please lend your support to this great effort.

Bill Rambow for
THE R4D TEAM / RCS PANELS
rambow@erols.com ; roy@roychaffin.com ; jg.visser@chello.nl
MARCH, 2001